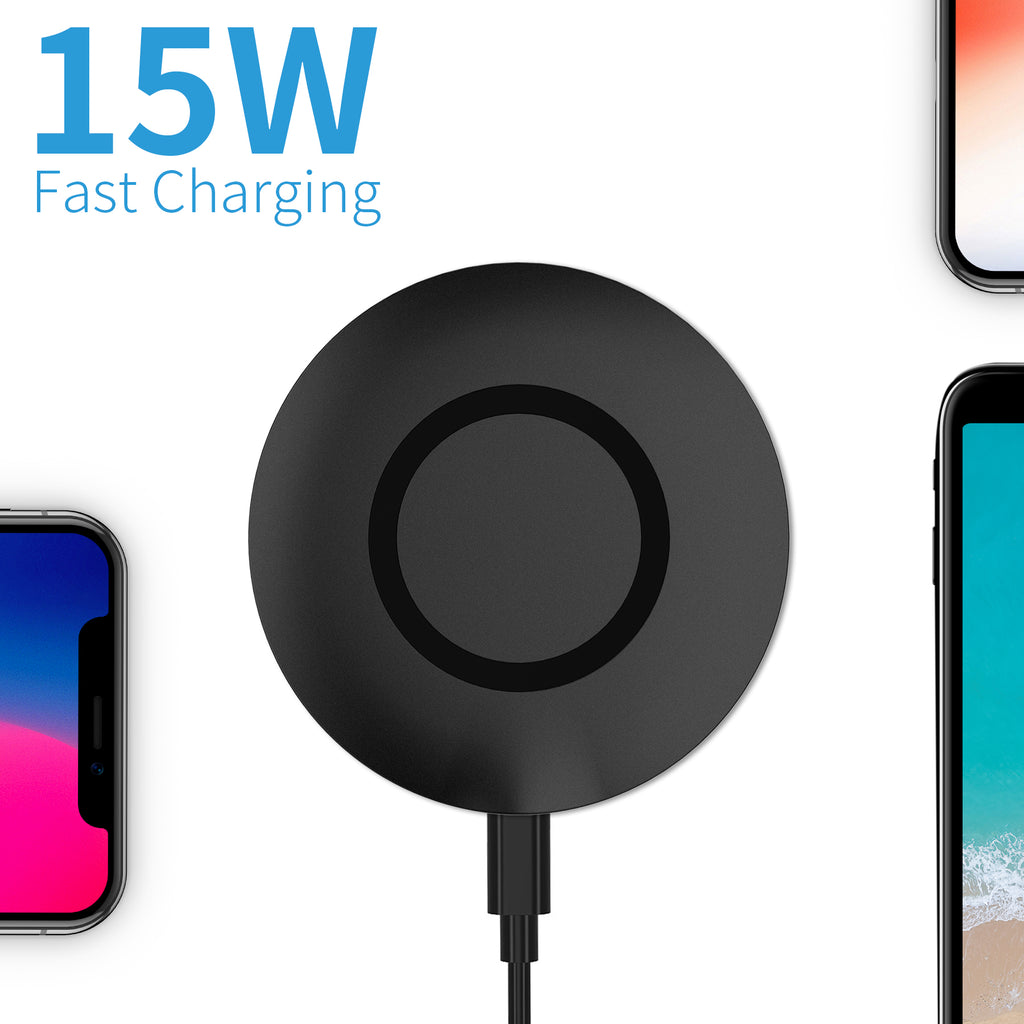 ⚡[WIDELY COMPATIBLE] - This 15W qi wireless charger is compatible with all Qi devices such as for Samsung S8/S8e, S9/S9e, S10/S10e, Note 10/9/8, iPhone 8/8 Plus, iPhone X/ XR/XS /XS MAX, iPhone 11/11pro/12, etc. This wireless charging pad does not include an adapter.👉But it cannot support watch charging.👉Note: Please do not use less than a 5V/1A input charger or USB port to power up, and do not use an adapter over 13V.

⚡[CHARGING THROUGH THE PHONE CASE] - This wireless phone charging pad can charge phones through a phone case with a thickness of 0.2in (the 15W wireless charger induction distance between the wireless charging coil and the phone charging area is 0.2in). 👉Note: Phones with metal casings, magnets, cards, handles, and other accessories will interfere with charging.

⚡[ULTRA-THIN DESIGN] - This 15W fast charging pad adopts an ultra-thin design, with a diameter of 3.9in, a thickness of only 0.29in, and a weight of only 0.1lb. The lightweight and portable design make it easier to put in your pocket, making it convenient for you to carry it with you.

⚡[SLEEP-FRIENDLY LED INDICATOR] - Cirtek 15W wireless fast charger with LED indicator to help you identify the charger working status. If the light is red, it means that the wireless charging pad is power on and on standby; if the light is blue, it means it is charging. And the lighting design is soft enough not to disturb your sleep.

⚡[HIGH-QUALITY WIRELESS CHARGER] - Our qi wireless charger adopts a non-slip design. The charging area of the wireless charging pad is equipped with a silicone ring for non-slip, just put your device on the center of the charging pad (silicone ring) to get the best charging effect, and the bottom has 4 non-slip pads and cooling holes to ensure its stability and durability.

⚡[QUALITY-SERVICE & WARRANTY] - Our 15W wireless qi charger has a 1-year replacement warranty and a 30-day refund. Please contact us without delay if you have any problem with the product. We will normally respond within 24 hours.
FEATURES OF X6 15W WIRELESS CHARGER


WIDELY COMPATIBLE ALL QI WIRELESS CHARGING DEVICES

The max power of this wireless charging pad is 15W (also compatible with 5W, 7.5W, 10W charging power).
NOTE:
Phones with a case and metal casing and accessories such as magnets, cards, and grips will interfere with charging.

Please place your qi device in the center of the silicone circle to ensure stable charging.

The 15W wireless charging pad supports Samsung Galaxy S21/S20 wireless charging but does not support the fast charging mode for Samsung Galaxy S21/S20.

iPhone 6 series, iPhone 7 series, Samsung A series do not support wireless charging.

Our wireless charging does not support smartwatch charging.
Tip: It is normal for the phone to heat up slightly during charging. It is recommended to remove the metal or magnets from the phone case and the phone while charging!
CHOOSE THE CORRECT ADAPTER(IS NOT INCLUDED ADAPTER)

If You Want to Achieve Fast Charging Mode, Please Check Carefully And Read The Following Two Points,
Please confirm that your phone model supports the max charging power of wireless charging.

Please use the adapter with the specifications in the above picture.
Warm Tip:
It has been verified by many experiments that, in any case, the charging speed of the wireless charger is not as fast as the charging speed of the mobile phone data cable.

If you are not sure whether your mobile phone model is suitable for our wireless charger, please tell us at any time before purchasing, and we will solve your question for you within 24 hours.
After purchase our team will process your order within 3 business days, after which you can expect to get it within 10-18 business days depending on your location and customs clearance. USA, UK, and Canada deliveries may be a bit quicker than Australia, and New Zealand. Almost all European, African, and Asian countries will experience longer ship times.
USA, UK and Canada - Please allow up to 10-15 business days for delivery from date of order processing. 
Rest of World - Please allow for up to 10-20 business days for delivery from date of order processing.
We will ship the product from one of our warehouses in (Hong Kong, China) with our Courier once your product gets through customs it will be transferred to your Local Post for delivery.
Kindly note that if inaccurate or incomplete addresses are provided, or if there are unverified details with your order, it may delay processing by an additional 1-2 business days. We encourage all customers to thoroughly review their shipping and billing information prior to checking out to ensure any possible delays are avoided.
Your package may or may not require a signature. Most packages are delivered to the mailbox or front door of the address provided, however, it is up to the delivery courier to decide if the package is safe being left in the open. If they deem it unsafe, they will hold the package at a local post office or re-schedule another delivery. Our best recommendation is to input a shipping address where you know your or someone else will be available to accept the package.
You will receive a confirmation e-mail once your order has been processed to the e-mail address provided at the time of checkout, which can take up to 48 hours. You will receive a second e-mail once your order has shipped, which will include your tracking number and a link to follow the journey of your package. Please allow 1 - 4 days for the tracking information to show. In some rare case, the tracking information may not update but you will still receive your order. Please contact us after the estimated delivery time.
INTERNATIONAL TAXES AND DUTIES
International customers (outside of the United States) are responsible to pay any applicable inbound duties, taxes, and any other fees which your local Customs authority deems appropriate. These fees are paid to your local carrier or government and are not collected by Cirtek, and thus cannot be refunded.
We ship international packages DDU (duties and taxes unpaid), meaning that these fees are not included in the price of the goods you purchase from our website. All applicable fees must be paid by the recipient in order to receive the parcel. As we are unable to advise the amount of what these fees might be, we recommend contacting your country's customs office or tax agent for respective charges and rates on a package coming outside of your country.
WRONG ADDRESS DISCLAIMER
It is the responsibility of the buyer to make sure that she or he enters the shipping address correctly. We do our best to speed up processing and shipping times, hence there is a very small time gap to cancel/change your order or to change the address of your order. If you decide to change your shipping address, please write to us at (Support@cirtekinc.com) as soon as you place your order. We will do our best to make the change, however, we cannot guarantee that we will be able to do so, as there are varying time limits in which we are able to do so.
If it's too late for our team to make changes on your order, the only thing we can do is wait to see if the package gets returned back to us. If it does get returned back to our warehouse, we can then ship it to the correct address or provide you with a full refund.
RETURNS
By placing an order at Cirtek, you are responsible for the cost of return shipping back to Cirtek. Please refer to our returns policy for further information on how to return your packages.
 All shipping costs are non-refundable. If you receive a refund, the cost of delivery shipping and return shipping will be deducted from your refund.