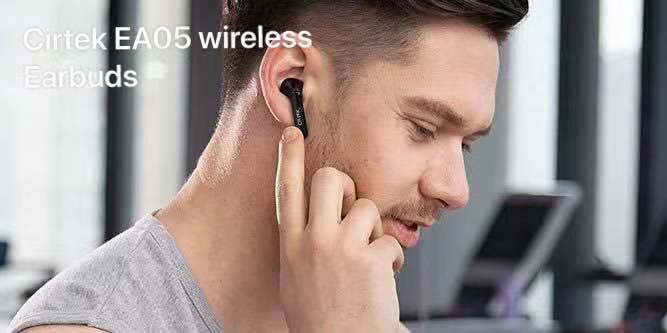 Cirtek EA05 True Wireless Earbuds Review & Testing
Article from nerdtechy
If you're looking for a new pair of earbuds, congratulations! There are literally thousands of options available. Good luck going through all of them, though. If anything, having this many options can be a bad thing. With so many choices, you suffer the constant fear of missing out. Sure, you looked at 25 earbuds and there are some excellent choices. But what if the perfect pair is still lurking out there, waiting to be discovered? For many people, it would be easier if there were just a handful of options.
Thankfully, this is probably temporary. The market exploded a few years back when True Wireless Stereo was released and Apple went wireless-only. Since wireless buds are relatively cheap to make, pretty much every manufacturer has been jumping on board. There isn't much downside from a business perspective, and the potential upside is huge. One of these up-and-coming manufacturers is Cirtek. We recently reviewed their USB fast charger, and we were impressed with how well it performed.
We're about to review the Cirtek EA05 Wireless Earbuds. These earbuds have an AirPod-style design, and come with a slick LCD charging case. They're also engineered for a balanced EQ, unlike a lot of modern "bass boost" earbuds. But how easy are they to use, and how is the call quality? We'll look at all aspects of the design, starting with the fit, ergonomics, and controls. We'll also talk about the audio quality and the noise cancellation function. Along the way, we'll touch on the battery life and the Bluetooth performance. After that, we'll know everything we need to make a fair judgement. Let's get started, and see what we discover!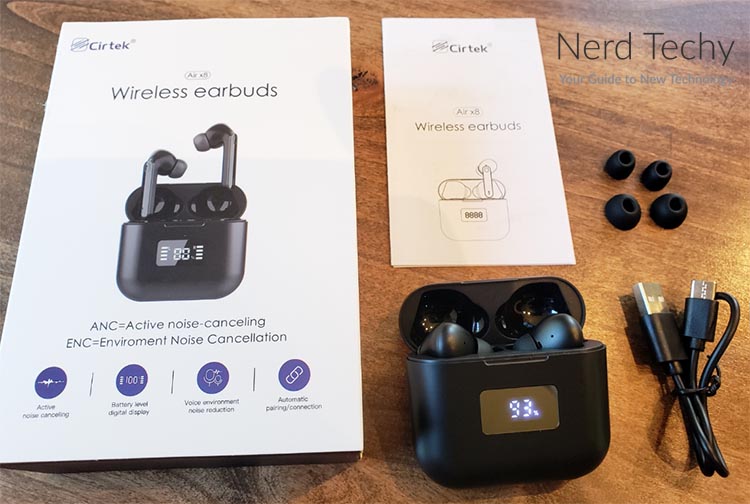 Overall Design
The Cirtek EA05 Wireless Earbuds have a vertical design, with hanging battery studs similar to AirPods. This has become a popular design among earbud manufacturers, and for good reason. It's bottom-heavy, so it keeps the buds oriented properly even during physical activity. Of course, you'll still want a secure fit if you want your earbuds to stay in. For this purpose, Cirtek includes three extra pairs of silicone ear tips, in three different sizes. It's a good idea to experiment with these if you're not happy with the initial fit. Finding the right tips won't just make your buds more secure and comfortable, either. A good seal also helps block outside noise from ruining your listening experience.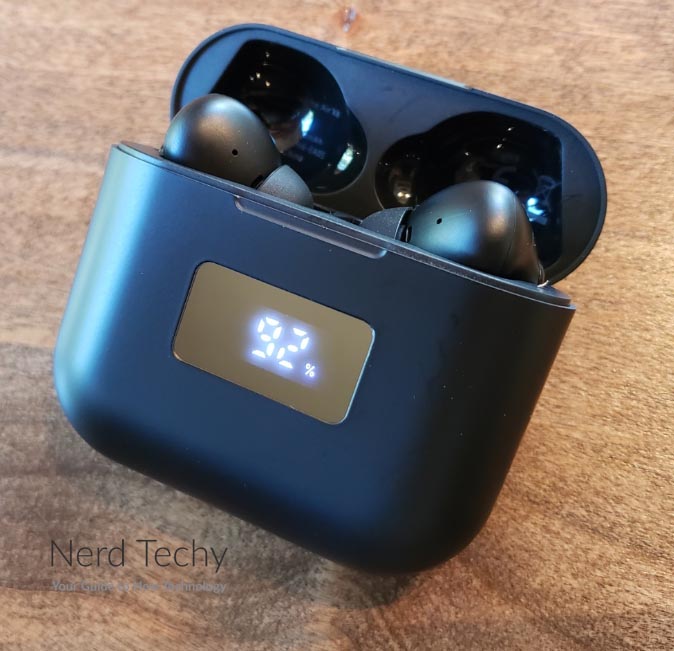 The earbud shells are made of a glossy black plastic, which resists dust but can tend to show fingerprints. At the backs, where the studs meet the main bodies, you'll find a touch surface that activates your controls. Among other functions, it can play and pause music, answer and end calls, and activate noise cancellation. You can also call up your voice assistant if you want to access voice commands. That said, there's no way to turn the earbuds off without putting them back in the charging case. This can get annoying if you just want to shut them off for a few minutes.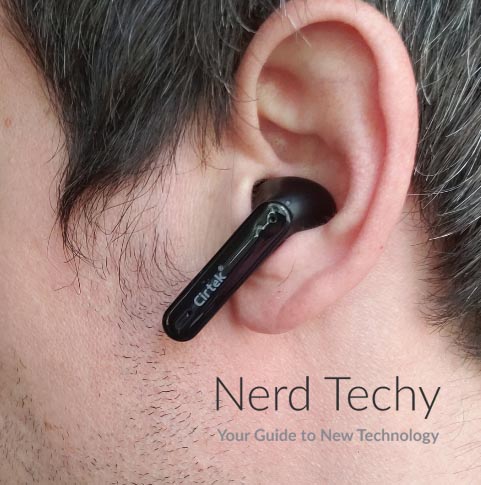 The EA05 earbuds come with a water-resistance rating of IPX6. This means they can withstand a constant jet of water at high pressure. In practice, it means they're safe for showers, but not for full immersion. As for rain or workout sweat, you don't have anything to worry about. The earbuds will shrug that kind of moisture off with no trouble.
If you're worried about submersion, consider the EarFun Free 2. These earbuds have a water-resistance rating of IPX7, which means they can withstand full submersion. They also offer very low latency, but they have less dynamic range than the EA05 and the bass is weaker.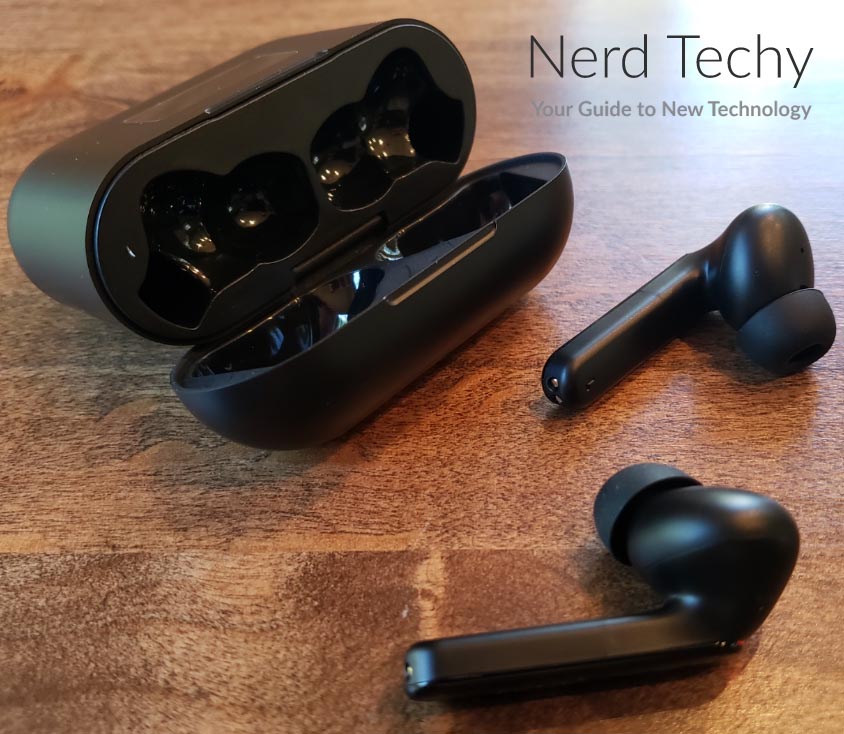 As with most wireless buds, the EA05 kit comes with a charging case. This is a vertical case that opens from the top, and the earbuds drop inside. It has an easy-to-clean, matte black finish, along with a spring-loaded lid. This lid opens easily when required, and stays shut when you need it to. On the bottom of the case, you'll find a USB Type-C port for charging. A USB cable is included in the kit.
Beneath the front of the lid, the rest of the front of the case is occupied by an LCD display. This is a bright, three-part display that shows the charging status of each earbud battery. These are shown via a simple, four-bar system similar to an old-school cell phone. The charging case battery is displayed in the center as a percentage. When left unplugged, the screen will shut off after the lid has been shut for a minute. This keeps your screen from draining the battery.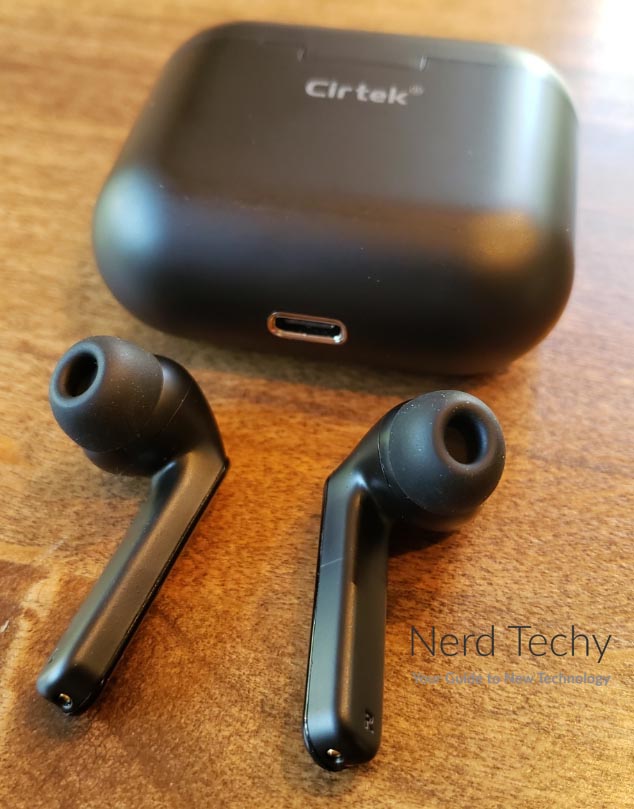 Battery and Connectivity
Each EA05 earbud has its own internal battery, sufficient for about seven hours per charge. However, this comes with a couple of caveats. First, like all earbud manufacturer battery ratings, the seven hour number assumes playback at half volume. If you've got your volume cranked up, five to six hours is a better estimate. Moreover, the active noise cancellation (ANC) function will drain additional battery. With ANC at top volume, you might only get four hours. We'll be generous and say the average user can expect about five to six hours per charge. That's slightly less than average for a modern pair of buds.
In addition to that, the charging case carries enough juice to recharge your buds five times. This will net you another 25 to 30 hours, for a total of 30 to 36 hours of playback without plugging in. That's actually quite good, and you can extend it by leaving ANC off or listening at lower volumes. When it's time to recharge the case itself, the USB Type-C charging cable is very efficient. You can fully top off the case battery in less than two hours.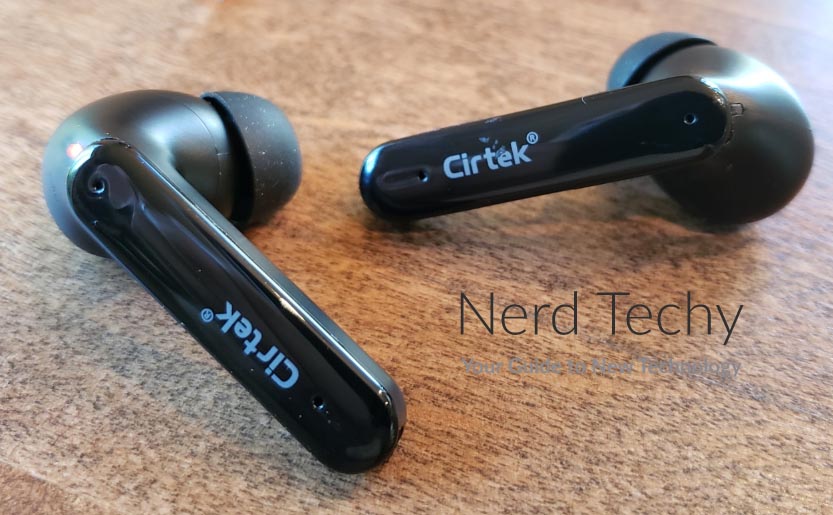 These earbuds connect to your phone or MP3 player via the Bluetooth 5.0 protocol. This is the current standard, and it's compatible with any modern device. It's also backwards-compatible with older Bluetooth 4.2 devices. That said, the Bluetooth 5.0 connection provides a few benefits over older Bluetooth variants. First, the signal is more stable, which means fewer dropped connections and missed calls. Second, the maximum bitrate is higher, so you can listen to HD music. Finally, there's less latency, or delay between what happens on the screen and when you hear it. As a result, Bluetooth 5.0 earbuds are favored for gaming and watching movies.
That said, there are even better options if you're specifically looking for gaming buds. For instance, the Tranya T10 Wireless Earbuds come with a special, ultra low-latency gaming mode. On the other hand, there's no noise cancellation, so they're not ideal for loud environments.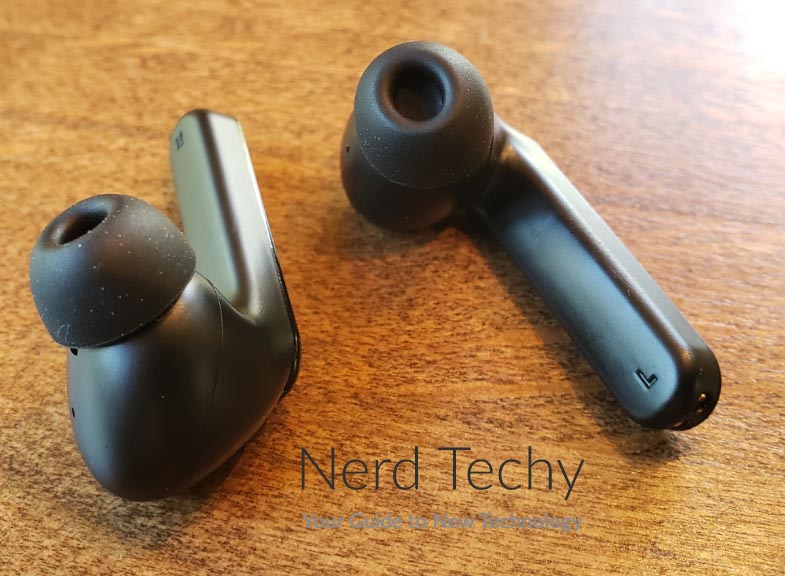 Audio Quality
The EA05 earbuds provide better audio quality than we'd expected. Now, we should be clear that these are not bass heavy earbuds. They don't have excess punch, and they're not designed for playing dance music. Instead, they're engineered with a more even EQ. This makes them suitable for a wider range of genres. The sound is rich and textured across all frequencies. The highs are soft and shimmery, and the bass, while not boosted, is detailed and fully present. Meanwhile, the mids are clear and present in the center of the mix, which is crucial for hearing good vocals.
The quality of the sound isn't just due to an even EQ. It's also improved by a wide soundstage, which means there's a real sense of space. With many earbuds, particularly inexpensive ones, it sounds like the instruments are squished together. In fact, this is why so many overcompensate with loud bass. Put enough punch in the low end, and many people will ignore otherwise sub-par audio. The EA05 buds have plenty of space for the entire band. When you're listening, it feels like you're in a real, physical space. It's not quite the same "live" sensation you'll get from studio headphones, but it's still pretty good.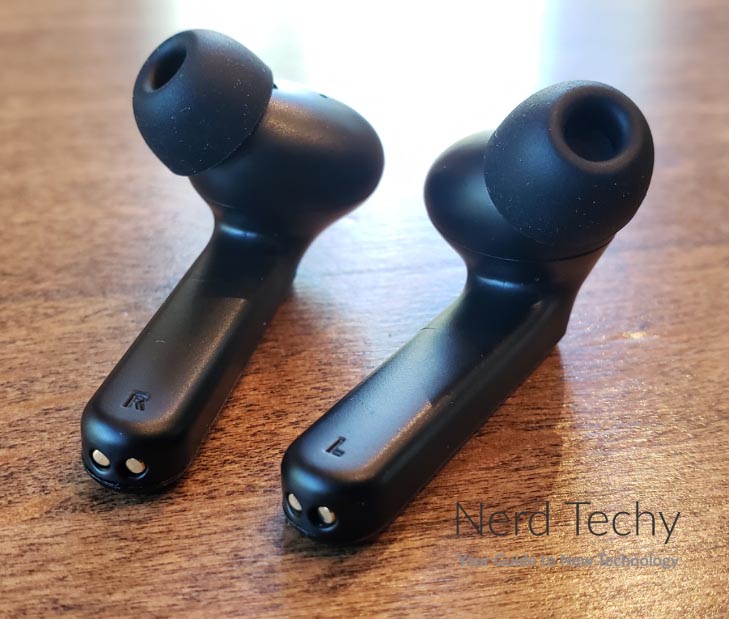 These earbuds sport a hybrid ANC system that does an excellent job of cutting out background noise. There are a total of four external mics, which pick up sound in all directions and help to cancel it out. In total, this system reduces background noise by 28dB. It won't silence everything. But it will reduce a roaring crowd to a mild chatter, or a plane engine to a soft rush. Combined with a well-fitted pair of tips, you should have no issues with noise in the environment.
The same four mics also help reduce noise on phone calls. They do this by focusing on your voice, and using electronic circuitry to remove everything else. Keep in mind that this works on your end only, so the other person can hear you more clearly. If the other person's mic is picking up a bunch of noise on their end, you're still going to hear it.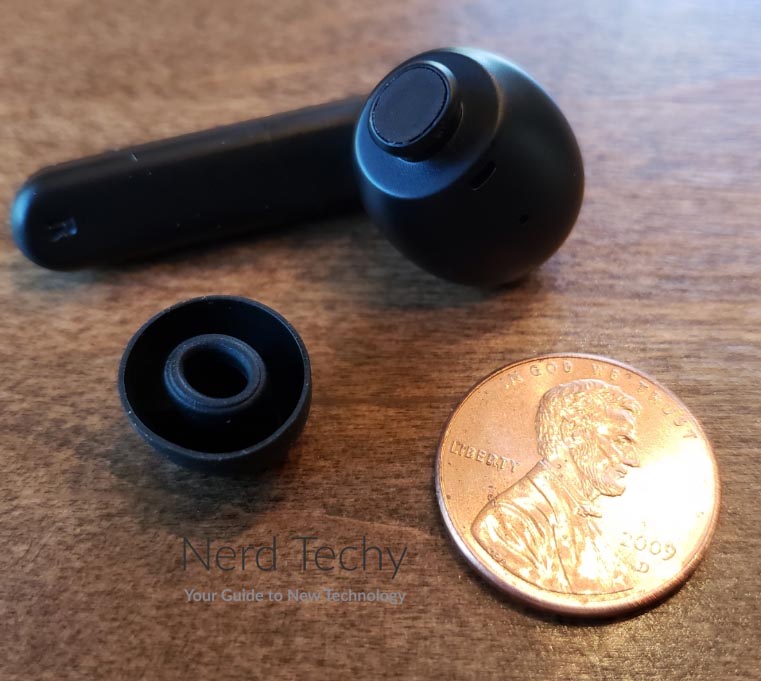 Final Verdict
As you can see, the Cirtek EA05 Wireless Earbuds have a lot to bring to the table. To begin with, you get a comfortable, ergonomic design, with a waterproof housing. The design leaves some things to be desired, such as a simple power off function. But generally speaking, it's well-engineered, including a charging case with a bright LCD display. You're able to tell easily at a glance how much charge you've got left.
The battery life on a single charge is a bit shorter than average. However, the capacity of the charging case is a bit higher than average. So all in all, you're looking at reasonable battery life. But the biggest attraction for us was the quality of the audio. For one thing, you get a balanced EQ with detail across the spectrum, instead of a simple bass boost. For another thing, you get a high-quality ANC system that eliminates almost all background noise. Voice-isolating mics for clear phone calls are just the icing on a cake that's already well worth buying.
Cirtek EA05 Wireless Earbuds reviewed by https://nerdtechy.com/cirtek-ea05-review